Disclosure: This shop has been compensated by Collective Bias, Inc. and its advertiser. All opinions are mine alone. #MerrySpritzmas #CollectiveBias
Make your guests feel like they never want to leave your Christmas party with this Bathroom Holiday Party Essentials Box that has everything you need, to make them feel like home.
---
Being a true Christmas party host is a task that involves not only offering a delicious dinner and decorating, you have to take care of every last detail. That's why I want to share with you this Bathroom Holiday Party Essentials Box DIY with you so that your guests do not feel that they need to leave your party for nothing.
Offering your guests everything they need even when they go to the bathroom will make your party unforgettable. If they feel comfortable like at home, they will not want to leave and I guarantee that you will win the medal as the best hostess of holiday parties they have known.
This is a box that is very simple to decorate and carries everything a person needs when going to the bathroom after eating a delicious dinner: toothbrushes, mouthwash, dental floss and new products Poo ~ Pourri «Before-You -Go® Toilet Spray «
Everything this Bathroom Holiday Party Essentials Box contains are definitely what everyone will need after dinner but the star product among all is definitely the Poo ~ Pourri spray «Before-You-Go® Toilet Spray». I assure you that it is a life-changing product and as soon as they try it in your bathroom it will be the gift they'll remember for the smell they'd rather forget.
Well, we know that generally for the bathroom we use spray products to dissipate those unwanted odors but have you noticed that the bathroom ends up smelling worse? Instead of making the bad smell disappear it creates a worse one.  So when the bad and the good come together it smells stronger. It's horrible because what you want to disguise ends up giving you away and you feel that it chases you when you leave the bathroom of how strong it ends up being.
For this reason, personally, I do not usually use other people's bathrooms. Many times I prefer to spend long hours enduring to leave then «literally» leaving a bad and smelly impression in someone else's house.
But the products Poo ~ Pourri «Before-You-Go® Toilet Spray» will change the way and especially the place where you decide to answer the call of nature.
How does it work? Very easy. When sprayed on the toilet bowl before going, the pure blend of Poo ~ Pourri of NATURAL ESSENTIAL OILS creates a film on the surface of the water.
The protective barrier traps the odor below the surface before it starts! All you will smell is a refreshing bouquet of NATURAL ESSENTIAL OILS.
Without exaggerating, this product has changed the way I visit friends and family. I now keep one in my purse and I am ready for when Nature calls my name, I respond to the call without any problem because I know that Poo ~ Pourri has my back.
There are different options for you to choose from.  Pick the aroma you like the most, my favorite so far is Poo ~ Pourri Lavander Vanilla, is a comforting blend of lavender, vanilla and citrus natural essential oils but there is also  Original Citrus.  I bought mine at Bed Bath and Beyond where they have the aroma in sprays that you like and the Poo ~ Pourri's Holiday Gift Sets. Don't forget to look out for special coupons on one item at Bed Bath and Beyond's website before heading out to shop or shopping online.
This is the perfect Christmas gift you could give to that person, friend or relative, who you know that doing number 2 anywhere is a problem. Poo ~ Pourri's Holiday Gift Sets / Ornaments are perfect to include in a Christmas basket since a set brings two different aromas. or the Poo ~ Pourri® Potty Box Gift Set in Original Citrus / Merry Spritzmas®, a box in the shape of a toilet, contains two bath spray and one small one for the pocket.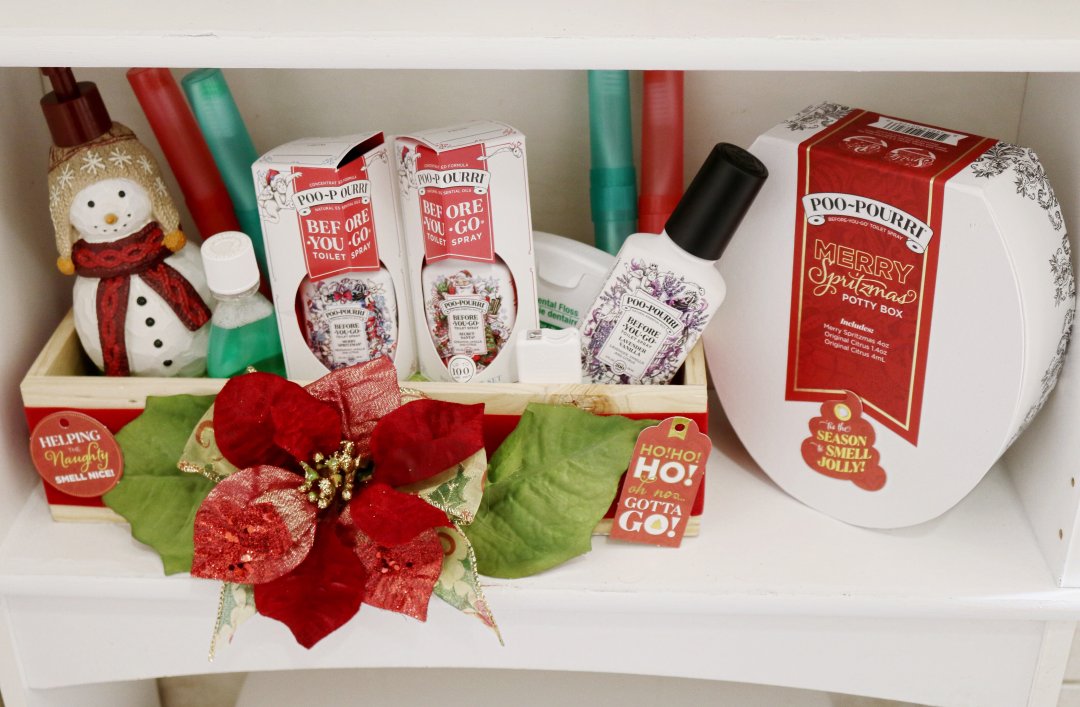 Click on the above image to shop for your own bottles of Poo~Pourri at BedBathandBeyond.com
Ok ladies! Let's make your Christmas box of essentials and decorate the bathroom, it is very simple if you use these materials:
Wooden box
Thick Christmas Ribbon
Glue gun
Glue sticks
Scissors
Christmas decorations
The first thing you have to do is put the red ribbon around the box . Then use Christmas decorations and glue them to the center of the box.
Once you have decorate your box, fill it with the essentials your guests need: toothbrushes, dental floss, mouthwash and of course Poo~Pourri «Before-You -Go® Toilet Spray. 
This Christmas give something different, something that special person needs and will use. Poo~Pourri has received over 5,000 5 star reviews with 40MM bottles sold. Find your 20% off coupon and go to Bed, Bath at Beyond for a Holiday Pull-Apart Gift Set
Or give this Potty Box Gift Set
Any of these two sets is a funny gift and they will never forget. Buy it because it's funny, use it because it works. Have a #MerrySpritzmas and a Happy Potty new Year.